It is football season again. Are you ready for all the tailgating parties? If you are feeling a little rusty, we have all the essentials on how to setup the perfect tailgate BBQ right here.
Setting Up the Perfect Tailgate BBQ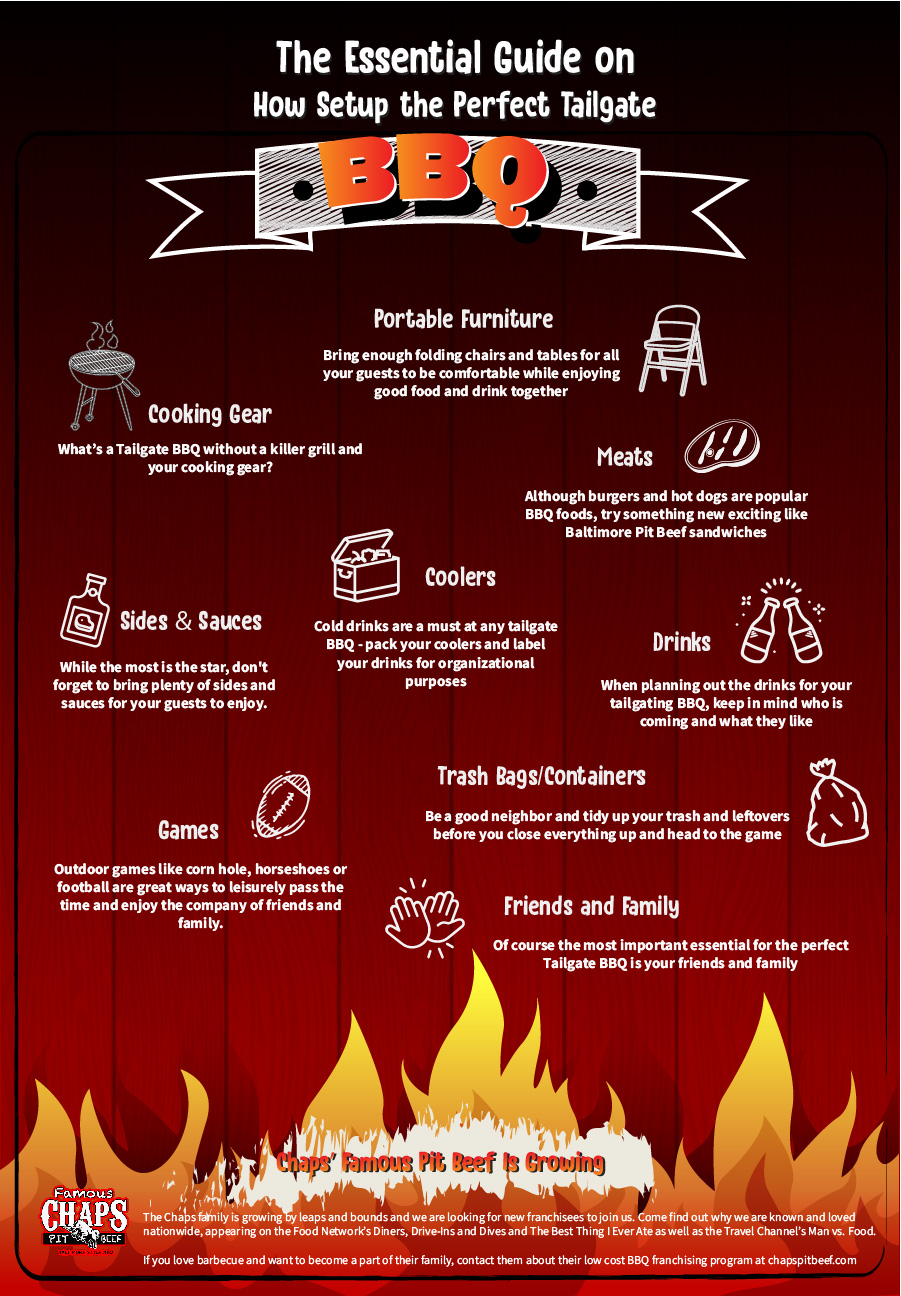 Embed or link the infographic on your website (copy and paste code below):
https://chapspitbeef.com/wp-content/uploads/2018/01/types-of-bbq-infographic.jpg
Cooking Gear
Unless you are just packing cold hoagies and sandwiches, you are going to need a heat source for all the game day food. The most common cooking gear used at a tailgate BBQ is of course the grill. If you have access to electricity you can also bring Dutch ovens and other cookers.
When it comes to the type of grill, a charcoal one is the most inexpensive and easiest to transport to an event like a tailgating party.
Portable Furniture
On the most basic level, you need to at least bring enough folding chairs for everyone to sit on. Otherwise your guests will grow tired real quick and enjoying the food will be more awkward and difficult when standing up.
But if you want to snazzy things up, you should also bring one or two portable tables for serving the food. A pretty canopy is also a beautiful way to protect all your guests from the sun's rays.
Coolers
Cold drinks are a must at any tailgate BBQ so don't forget to pack coolers. If you are offering beer as well as nonalcoholic soda and juices, then it is probably a good idea to bring at least two coolers and label them clearly so all your guests know what is in each one. Be sure to bring enough ice too to keep the drinks cold enough the whole time. Typically you are tailgating for about 4 hours at least.
Trash Bags/Containers for Cleanup
It never fails that when you BBQ and tailgate, there is going to be trash to clean up. Be a good neighbor and tidy up all your trash and leftover food before you close everything up and head to the game. To make this as easy as possible, bring a few trash bags along with you. Also pack a container or two to take back any leftovers or dirty dishes.
First Aid Kit
Be prepared for any contingency and have a first aid kit ready just in case anyone at your tailgate BBQ gets hurt. First aid standards include band aids, gauze, antiseptic and wraps for sprains. Tweezers are also good for pulling out splinters.
Fire Extinguisher
Another good preventive tool to bring with you is the fire extinguisher. Whenever you are dealing with open flames and electrical gadgets, you will want to make sure that you also have a fire extinguisher at hand.
Meats
Meat is always the center of most tailgating menu. Burgers and hot dogs are, of course, the most popular, but you can have a lot of creative fun with other options like ribs, different types of chicken and pork.
If you love Chaps Pit Beef's signature pit beef sandwich, then learn the secret to making it here. Or just order some sandwiches from Chaps and bring them with you. We also have catering options available too.
Sides Plus
While the meat is the star, you need to also provide plenty of sides for your guests to enjoy with the meat. You should also provide a vegetarian option for your family and friends as well.
Drinks
When planning out the drinks for your tailgating BBQ, keep in mind who is coming and what they like. If you have a lot of kids and non-alcoholic drinkers, then you pack plenty of sodas, waters and juice. Beers are always a popular choice at tailgate parties but if you have non-beer drinkers coming also then you might want to bring some bottles of wine or different types of alcohol to make mixed drinks.
Games, Games, Games
To keep everyone entertained while waiting for the game to start, set up some outdoor games like cornhole and horseshoes. Even have a ball for people to pass around can add to the fun of the day.
Also think about other small essentials that might be useful at your tailgating BBQ. Jumper cables can come in handy if your car loses juice while you are blasting the tunes and a container filled with kitchen utensils, a bottle openers and a cork screw are also important. Other easy tips to follow include to plan to arrive four hours before the game starts so you can eat at least two hours before the game and still have plenty of time for clean up and set up. Also prep as much of the food and the packing the night before so you can enjoy yourself and not be so stressed.
For more information about the essentials on how to setup the perfect tailgate BBQ and how we at Chaps can make it the most memorable ever, give us a call today.