History
It all began in 1987…

It all began in May of 1987, when Gus Glava owner of a Southwest themed night club on Pulaski Highway wanted his son in law Bob Creager to get out of working in a steel mill. So, as a wedding gift to his newly married daughter and son in law he invested twelve thousand dollars to build Chaps Pit Beef. And with that, Chaps was born.
Gus originally served pit beef at his bar, Gus's Manor Inn, located in Dundalk Maryland where it was popular. Gus knew Bob liked to cook and thought a pit beef stand in the parking lot of his club would be a hit.
Gus suggested naming it "Chaps Pit Beef" after the club. The name stuck even though the club was sold and has gone through numerous name changes.
Chaps Pit Beef began as a 12 x15 shack using the food license issued to the club, and extension cords running out to it and no restroom of it's own.
Donna, Gus's daughter originally worked in the Chaps nightclub, but left there so she could spend her time at the pit beef stand with Bob. As it turns out, this was a match made in heaven. With Bob's amazing ability as a cook and Donna's ability to organize and motivate the staff, success was in the cards.
Donna describes herself as a "manager" and she describes Bob as a "worker". Chaps Pit beef now has had five buildings added onto it from the original building Gus and Bob literally built from the ground up, together.
Donna feels like it has been a personal challenge for her to take "that little shack" and build it into the success it is today. She credits Bob's food "passion" for making a product that people come from all over to eat.
Today, Chaps makes a brand promise to deliver the freshest, highest quality products backed with outstanding service in a spotlessly clean environment resulting in 100% guest satisfaction. The core values Chaps lists are, honesty, hustle, teamwork, loyalty, passion and pride.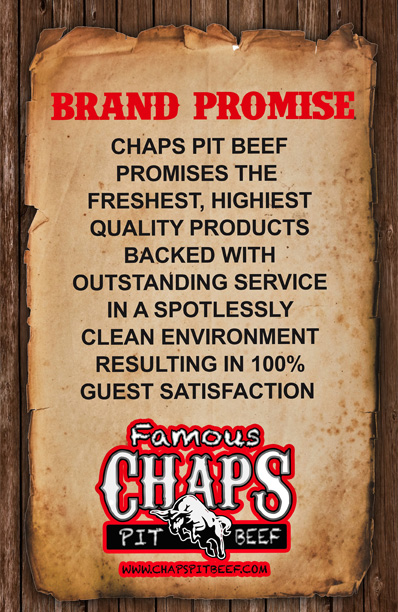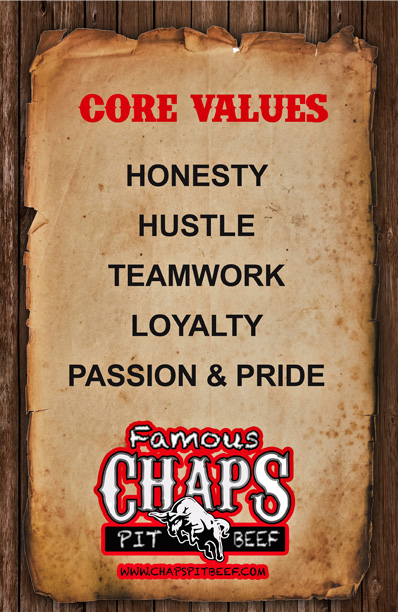 Explore More On Chaps Pit Beef