Here in America we love our barbecue, and if you travel a lot you have probably noticed how different parts of the country have their special take on barbecued meats. The East Baltimore area along Pulaski Highway since the 1970s has been known for its pit beef, basically a roast beef sandwich with a little charcoal and smoky flavor and people come from all over to experience the tender, flavorful sandwich.
One restaurant in particular, Chaps Pit Beef, exemplifies the "Baltimore Style BBQ" and is one of the pioneers of modern day pit beef cuisine. With locations in Baltimore on Pulaski Highway and in Aberdeen on Beards Hill Road, they have created a strong following of patrons and restaurant critics alike.
Chaps Pit Beef is the brainchild of Gus Glava who owned a Southwest-themed night club on Pulaski Highway and his daughter and son-in-law. Back in May of 1987, Glava built the original Chaps Pit Beef on the grounds of his nightclub as a wedding gift for his daughter Donna and son-in-law Bob Creager who was working in a steel mill at the time.
Glava had already been serving pit beef at his bar, Gus' Manor Inn which is located in Dundalk, Maryland and knew his new son-in-law loved to cook so thought it would be a great career transition for Creager.
The original stand was basically a 12 x 15 shack that shared the food license and even electricity with the nightclub. It was the most basic setup that could be with no restroom and only enough room to prep and cook the food. Bob would cook and Donna would manage the staff and eventually their business grew to not only allow for an expansion of their original shack, but also the addition of the new restaurant in Aberdeen.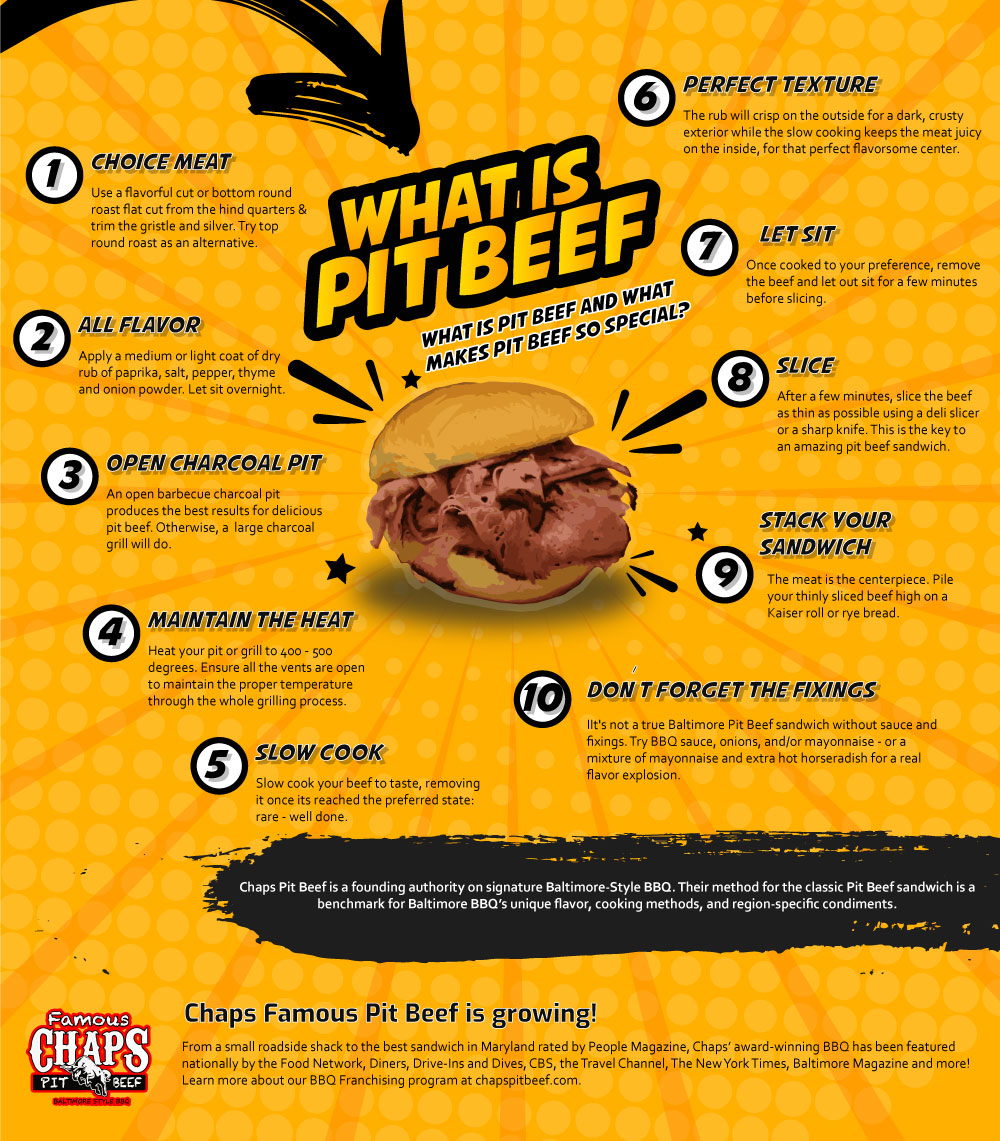 Embed or link the infographic on your website (copy and paste code below):
https://chapspitbeef.com/wp-content/uploads/2019/09/what-is-pit-beef.pdf
How to Make Pit Beef
Chaps "Baltimore Style BBQ" method is what made their original pit beef sandwich so famous. Here is how Bob makes his pit beef sandwich:
1. Quality of Meat Counts
Bob uses a bottom round roast flat cut from the hind quarters which are a tougher, but more flavorful cut. He trims the gristle and silver off the meat. You can also use a top round roast as well.
2. It Is All in the Flavor
Next Bob applies a dry rub of different herbs and spices like paprika, salt and pepper, thyme and onion powder. A medium to light coat of the rub is usually best. He then lets it sit over night. The trick to it is to add flavor but not to overwhelm the natural flavor of the meat.
3. Maintaining the Heat
Getting the grill to the right temperature is also important. In the morning, Bob will heat up the charcoal open pit to about 400 to 500 degrees. He always makes sure all the vents are open to maintain the proper temperature through the whole grilling process.
4. Perfecting the Crust
Bob usually puts the meat on the grill first thing in the morning, and once the beef has a nice crust on the outside and is tender on the inside, he slices it in ribbons and puts it back on the pit so he can cook to order for each of his customers. It is important to let the meat rest for a little before slicing though. He always make sure to spread the meat around to add some char and flavor to it. The rule of thumb is to finish off with a sear, about a minute on each side.
5. Texture and Thickness
Once the beef is cooked to order, Bob then shaves the meat and piles it high on a Kaiser roll. Sliced thin and piled high is the key. The meat should always be the centerpiece of the sandwich. The juices and tenderness of the beef is what brings Pit Beef fans back for more, time and time again.
6. Don't Forget All the Fixings
The final step is to add whatever fixings the customer wants. At Chaps, we offer our own signature horseradish sauce which is a mixture of mayonnaise and extra hot horseradish, as well as all the other condiments you would expect like BBQ sauce, onions, and mayonnaise. Your food is always cooked to order with all the toppings you desire added. It is the whole sandwich experience that makes Pit Beef sandwiches as special as they are.
Make Your Own Open Pit
Want to make your own pit beef at home, but don't have a charcoal open pit? Here is what you need to know:
First, the materials you will need include a hand tamp, a shovel, cinder blocks, measuring tape, gravel, dry mortar, water, a trowel, a leveler, a carpenter's square, metal braces, a grill top and lots of bricks. Make sure you have everything you need before you get started.
Next, you need to choose the perfect spot for your open barbecue pit. It should be about 3 feet by 5 felt and should be in an area where there is no brush or other fire hazards. Never try to build one in a cluttered part of the backyard.
Once you mark the area for your BBQ pit, then you need to start digging. Your pit needs to be about 8 inches deep. To level off the bottom, use a hand tamp. At this stage you should also soak your bricks with water.
Next you need to fill in the pit a little with about 2 inches of gravel. Use the hand tramp to level it off carefully.
The next step is to add mortar mixed with water on top of the gravel. It should be about 2 inches thick. You need to make sure that the mortar doesn't harden before you finish.
When placing the cinder blocks, be sure to place them on the edges of the mortar so there is a few small holes for the water to drain from. As always, use the leveler to even out all the layers. You should also use the carpenter's square to check the corners.
Next cover the top of the cinder blocks with mortar and then place the bricks side by side on top of them. For extra strength, add an extra layer of bricks. Be sure to scrape off any extra mortar as you are working, but once it is dry it will be harder to remove.
Continue to apply more bricks with the mortar in between until you have the height you want for your barbecue pit. Always check your levels and corners to make sure everything is stabilized.
Before the last of the mortar dries, place the metal braces for the grill top on top. They need to face inward.
The last step is to on the following day after all the mortar is set to put the grill top on the metal braces. And now you are finally ready to cook on your open BBQ pit.
Other BBQ Favorites
At Chaps while we started with just selling the Pit Beef Sandwich now we throw five or six different meats on the open pit every day so we can offer meat lovers different sandwich combinations.
Our specialties include "The Richwich", a pit beef, corned beef, turkey and sausage, and "The Big John", which is chock full of pit beef, corned beef, turkey, ham and sausage. Other favorites are "The Bull Dog", a pit beef, sausage and American cheese sandwich and the "52" Chaps special which combines corned beef, ham and pit beef with American cheese. Don't worry we also offer fresh cod sandwiches and barbecue basics like hot dogs and burgers. In addition, we prepare homemade sides like mac and cheese, Cole slaw and green beans and stewed tomatoes.
Chaps' brand has been built on always providing the highest quality ingredients and outstanding customer service and now we are franchising the business to other meat lovers who want to get in on the rising popularity of barbecue restaurants.
Learn more about franchising opportunities available with Chaps Pit Beef here.