Are you interested in jumping into the franchise business, but worried about having enough money to get off to a successful start?
A small business loan is one option you have. Consider applying for the Small Business Administration (SBA) 7a loan. The SBA 7 (a) program is the SBA loan guaranty program for small businesses.
The program is designed to help small businesses with good credit get financing at reasonable terms when they otherwise wouldn't be able to.
With this type of loan, the SBA does not provide the actual funds; instead it guarantees a portion of the lender's loan if the lender meets certain requirements. How it works is that if the borrower defaults, the SBA pays off the guaranteed portion of the remaining loan balance.
Here is what you need to know about the SBA 7(a) Loan:
Check Out Our Infographic On SBA 7(a) Loans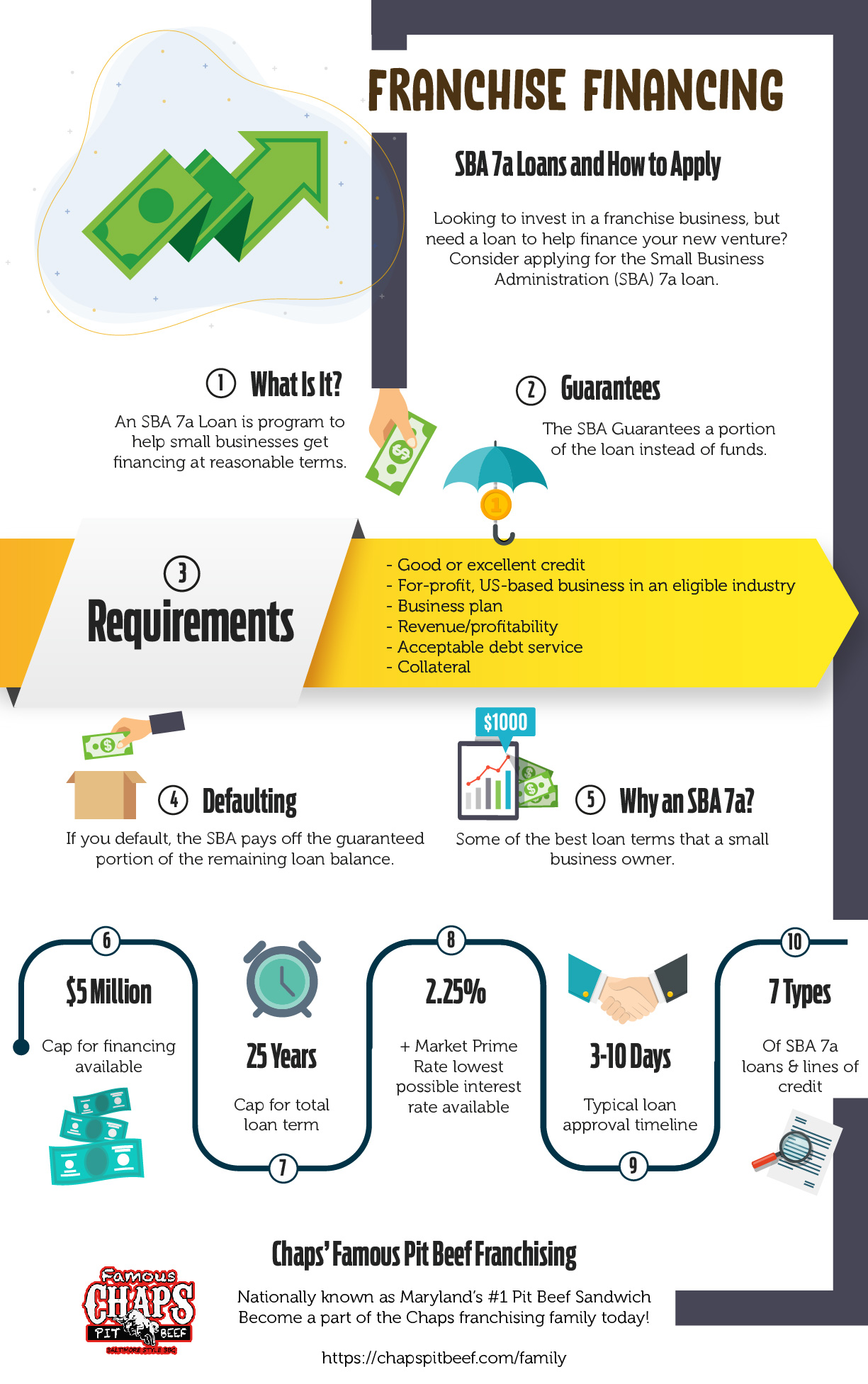 Embed or link the infographic on your website (copy and paste code below):
https://chapspitbeef.com/wp-content/uploads/2018/11/sba-7a-loan-infographic.pdf
Loan Eligibility
The first thing you should do, of course, is to check your eligibility for this kind of SBA loan. The SBA 7a loan requirements include:
All major owners have good or excellent credit
Your company is a for-profit, US-based business in an eligible industry (vice and loan packaging typically won't qualify).
Your business must be at least two years old.
You must have proof that your business has tried and failed to get funding from other lenders
Your business must meet the SBA's definition of a small business
Owners must have invested a reasonable amount of equity in the business.
With the 7(a) program, however, you could still qualify if you don't quite meet the credit score and age requirements. Keep in mind that some SBA lenders will also require you to provide collateral in the form of the business or business owners' assets. This will back the portion of the loan that the SBA doesn't cover which can be anywhere from 15% and 50%.
Types of 7(a) loans
The SBA 7(a) program covers several different types of SBA loans. The standard 7(a) loan is a term loan of up to $5 million. SBA CAPlines falls under the umbrella of the 7(a) program and is the SBA's standard line of credit up to $5 million.
Keep in mind though that just because that is the most popular loan program the businesses go for, doesn't mean it is the right choice for you. Explore all your options carefully first.
Finding a lender
One of the most important things you will need to remember is that you actually don't go to the SBA directly for the loan. You need to find a lender who will provide the loan and process your application for you. It will be the lender who sets the credit requirements and determines your eligibility so the results could vary a little, vendor to vendor.
To find the right lender for your needs, you can do all the legwork yourself or go through a referral service. Either way, keep these questions in mind as you search:
Does it offer the SBA program I need?
How much can I borrow? Is it too high or low for what I really need?
Do I qualify?
What are the interest rates? While the SBA caps its interest rates usually around 9%, it can vary a little between lenders so be aware of what you are exactly agreeing to.
Is there a down payment?
Is it an SBA Preferred Lender?
How much and what kind of collateral will I need to provide?
How is their customer service? Is it easy to get your questions and concerns addressed? How long will it take for your application to go through and the money in your hand?
Gather all your paperwork
There are certain pieces of information that you will need to provide so it is best to get your paperwork in order as early as possible. Here is what you will need:
How much your business will want to borrow
A detailed plan of how the money will be used
Your business' financial projections for the next one to three years.
A cash flow statement
A current profit and loss (P&L) statement
A current balance sheet
Two years of business tax returns
Two years of personal tax returns from each owner
Personal financial statements for each business owner
Resumes of each owner
A business plan which needs to include an overview and history
Proof of ownership
Business licenses and leases
No matter what type of loan you end up getting, you will also need to have a good chunk of your own money for franchise financing. Here are some other tips for saving money for your franchise:
Know exactly how much you need to save. Initial startup costs and financial requirements for franchises can vary from $10,000 to a couple of million so it is important know exactly what your goal is first. Even if your saving is slow-going at first, chipping away at your goal will help keep you positive throughout the process.
Set aside a certain amount from each paycheck. Make sticking to a budget easier for yourself, by having a certain amount of money from each paycheck put right into your savings account. We all know how easy it is to let coffees and lunches and dinners out can fritter away our money before we have a chance to save anything. This way there are no excuses.
Check your accounts daily. With credit/debit cards, it can be hard to keep track of how much you are actually spending. If you are swiping that card several times a day, it is having a big impact on your bottom line. By checking it daily, you can see if you are going over budget as well as make sure there aren't any unexpected charges on there.
Use cash as much as possible. While having a credit history is important, using cash for most of your daily purchases can go a long way to helping you save more money for your franchise. Each week, calculate how much spending money you have and take the cash out of the bank. You will not only save on ATM fees, you will not overspend because once the cash is gone you know you can't spend anymore. Use envelopes to separate out food shopping money from gas money from I really need that cappuccino money.
Chaps Pit Beef, one of the top restaurant franchise opportunities available today, is currently expanding their franchise program and looking for new franchisees. For more information about franchise financing and Chaps Pit Beef, give them a call today.